Reading Roundup: Fire Safety Books
October 10, 2013 in Teaching by Anna
October is Fire Safety Month, so I have gathered a list of ten fire safety books and books about firefighters. I encourage you and your family to discuss safety measures around the house, including what should happen if there is a fire. How should everyone exit and where should you meet once you're outside? Also, make sure you check those smoke alarms and change the batteries regularly. Practicing fire safety is key to having a safe home and informed family. The U.S. Fire Administration page offers more helpful links, along with activities for kids. Check it out!
Ten Books About Fire Safety and Firefighters
This list is in no particuliar order and contains affiliate links.
My Mom is a Firefighter by Lois G. Grambling and Illustrated by Jane Manning
Billy's mom is a firefighter, so he has two families…the one at home and the one at the fire station. He's welcome in both places and has a lot of fun when he visits the fire station. He also knows how busy firefighters are, even when they aren't fighting fires! Billy's mom even teaches kids at Billy's school all about fire safety. I wonder what Billy might want to be when he grows up? (Not an affiliate link.)
Fireman Small, Fire Down Below! by Wong Herbert Yee
There's a leak in Fireman Small's bedroom and he just can't sleep! Off to the hotel he goes, but he can't sleep there either! It's just too loud. As he finally starts dozing, he smells something disturbing. It's smoke! Fireman Small is up in a flash. He sounds the alarm, but how will he ever be able to save himself and everyone in the hotel? (Not an affiliate link.)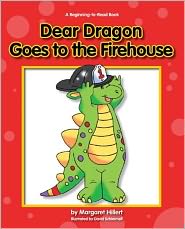 Dear Dragon Goes to the Firehouse by Margaret Hillert and Illustrated by David Schimmell (A Beginning-to-Read Book)
Dragon and his class go on a walk and wind up at the firehouse. They see where firefighters live when they are at work, what they wear when they fight fires, and they get to explore the fire truck. The firefighters talk to them about fire safety and hand out hats and books. I wonder what they learn?
Smoke Alarms by Lucia Raatma (The affiliate link is in the text here, not the image.)
This is an informative book about fire safety, focusing on smoke alarms. It covers where they should be placed, how often they should be tested and cleaned or have their batteries changed, and even discusses all the parts of smoke alarms. This book also contains a glossary, resources for further information, and a step-by-step process for testing your own smoke alarm.
 Home Fire Drills by Lucia Raatma
This book is by the same author as the one above. Instead of focusing on smoke alarms, this book discusses the importance of home fire drills. Often something we think of taking place at school, fire drills have a place in the home environment as well. It provides information about fire, having plans in place for safe exiting, how one should exit, and where one should go once they are out of the home or apartment building. This book also contains a glossary, a list of additional resources, and instructions for a practice fire drill. (Not an affiliate link.)
Firebears: The Rescue Team by Rhonda Gowler Greene and Illustrated by Dan Andreasen
Fire Station Number Eight is home to The Firebears. In this rhyming book, young readers can see what firefighters do on scene and back at the station. The firebears are busy bears, but when they're on the job, do they ever have downtime? (Not an affiliate link.)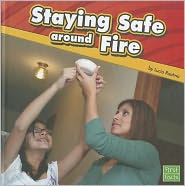 Staying Safe Around Fire by Lucia Raatma
This author really wants to keep people safe around fire! It's the third book on the list by her.This informative book teaches readers about different types of fires, ways to prevent fires, what to do in case of a fire, what to do in case your body catches fire, and also contains a glossary, resource list, and a guide to having an escape route.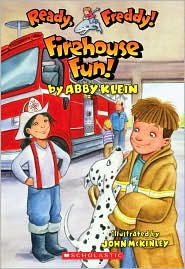 Firehouse Fun! by Abby Klein and Illustrated by John McKinley (from the Ready Freddy Series, #17)
Freddy's class is headed to the fire station in this early chapter book. When the class discusses what to expect, he learns that the firefighters might choose some students to slide down the fire pole. Immediately Freddy worries that he won't be able to do it and be called a baby in front of everyone. Afterall, the class bully, Max, never hesitates to make fun of someone. Freddy's best friend tries to help him fight his fear of heights and during the tour, Freddy even disappears to the bathroom for awhile. Will he be able to avoid the fire pole or forced to face his fears?
Billy Blazes' Rescue by Matt Mitter and Illustrated by Bill Jankowski (An All-Star Step 2 Reader Book)
Billy Blazes isn't a firefighter and this book doesn't even contain a fire. It was the closest thing to a firefighter book that I could find that illustrates how firefighters are called to several emergencies that have nothing to do with fires. Sometimes it's a car accident. Other times, it could be a rescue mission of some sort. That's the case with Billy Blazes in this book. Rain comes and a flood follows. A dam is on the verge of breaking and a bridge is almost underwater. People are trapped in cabins and houses when mudslides and flooding are happening. Will Billy be coming to the rescue? (Not an affiliate link.)
Lego City Fire in the Forest! by Samantha Brooke and Illustrated by Kenny Kiernan (A Scholastic Reader, Level 1)
If your child likes Legos, they'll probably enjoy this book, where all of the characters are Legos! The firefighters here fight forest fires. When the firefighters are asleep in the firehouse, they smell smoke and head to the source of the fire, deep in the forest. When the flames are too strong, they call in backup. Will they be able to stop the fire from spreading further?
Have you discussed fire safety with your family lately?