Reading Roundup: Santa Books
December 5, 2013 in Teaching by Anna
Ho! Ho! Ho! Merry Christmas!
Are you looking forward to Christmas this year? If you like to count down to the big day, you may enjoy this egg carton Advent Calendar!
I am! (I always am!) I think my oldest is starting to understand that Jesus was born and Santa Claus pays him a visit. It's pretty exciting. My youngest will be into everything he can get his hands on, meaning all unguarded presents and decorations! That should be quite interesting!
So, for all who believe in Santa…this list is for you! These books are listed in no certain order. This post does contain affiliate links.
Ten Santa Books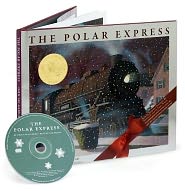 The Polar Express Written and Illustrated by Chris Van Allsburg
A child waits silently in his room for the sound of Santa's sleigh bells, when he's invited to hop on the Polar Express and take a ride to the North Pole. When Santa chooses him to request the first gift of Christmas, he asks for a sleigh bell. Soon after that, he's back on the Polar Express, heading home. All of the other children ask to see the bell, but it's not there! This child has lost it! Will he ever find it again? (The particular book here is a 25th Anniversary Book that includes an ornament and bonus CD.)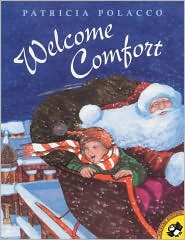 Welcome Comfort by Patricia Polacco
Mr. Hamp is the custodian at Union City Elementary School and is always available to lend a hand.  One day, he overhears children making fun of a larger boy named Welcome Comfort. Mr. Hamp is reminded of his youth. As a foster child, Welcome doesn't feel like part of a family, but when he spends time with Mr. and Mrs. Hamp, he feels like he belongs. Not having a family makes Christmas a sad time for Welcome. Will a visit from Santa change his thoughts about Christmas? How about a night out in the sleigh delivering presents? How will Christmas last through the years for a boy who doesn't believe?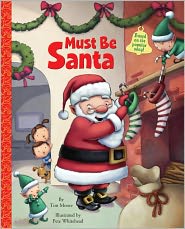 Must Be Santa by Tim Moore and Illustrated by Pete Whitehead
You can sing this book, if you know the tune to the popular song "Must Be Santa." Building upon each verse, readers figure out that the clues must reveal Santa!
Peppa Pig and the Lost Christmas List Created by Neville Astley and Mark Baker
This Candlewick Press book is based on the TV series Peppa Pig. Peppa's family sends letters to Santa, buys a Christmas tree, prepares for Christmas Eve, and then Peppa stays up to see Santa. He sure is surprised to see her by the tree when he arrives. He's even more surprised when he realizes he's lost his gift list! How will he ever be able to figure out who gets which present?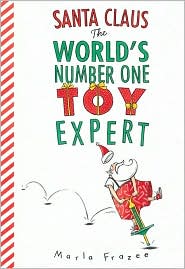 Santa Claus The World's Number One Toy Expert by Marla Frazee
Santa Claus is a busy man! He meets children all over the world. He studies what they'd like to have for Christmas. He inspects and tests each toy before accepting it and deciding who should receive it for Christmas. It's a tough job with long hours, but in the end, the perfect toy goes to the perfect person, right?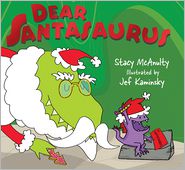 Dear Santasaurus by Stacy McAnulty and Illustrated by Jef Kaminsky
Ernest B. Spinosaurus is tight with Santasaurus. Afterall, he writes to him just about every month. That way Santasaurus doesn't have to work at the last minute to find the perfect gift for Ernest. But will scaring people, making messes, and pulling pranks take his name of the nice list before it's even December? (This is the newest book on this list!)
I'm Not Santa! by Jonathan Allen
Baby Owl is surprised when Baby Hare insists that Baby Owl is Santa Claus. Baby Owl cannot convince Baby Hare that he is mistaken. Baby Hare cannot pry a confession out of Baby Owl…even with abundant evidence supporting this identity. However, this doesn't stop either one of them from arguing their hardest and they both end up in tears. Will anyone be able to help them reconcile their differences? (This book made me laugh because it reminds me of my two boys going back and forth without listening to reason.)

Guess Who's Coming to Santa's for Dinner? Written and Illustrated by Tomie dePaola
Even with strong hesitation from Mrs. Claus, Santa decides to invite his family over for Christmas dinner this year. And, he invites everybody! Before long the relatives arrive and it's an assortment of characters…typical of most families. Even though some are being rude and others are being overly polite, there's a pageant, a dinner, and a good night's sleep. Will that be enough to convince Mrs. Claus that it was a good idea to host Christmas dinner?
Santa and the Three Bears by Dominic Catalano
While Santa's delivering presents around the globe, Mrs. Claus plans a surprise party for his return. All she has left to do is buy a Christmas tree and decorate it. When she goes out to get the tree, three bears can't resist the warmth and homey feeling the house has to offer. They make themselves at home and fall asleep! What will Mrs. Claus do when she comes home to find everything in disarray?
Santa's Busy Night From Igloo Books, Illustrated by Kait Eaton
This activity book keeps readers about as active as Santa is on his busy night! They can push, pull, and turn pages and moving parts while learning shapes, colors, numbers, and more!
What is your favorite memory of Santa Claus?