Reading Roundup: Night Before Christmas Books
December 19, 2013 in Teaching by Anna
Since I wrote a list of ten Christmas books for Mom Endeavors this month, I decided to round up ten Night Before Christmas books here! There are so many books about Santa and Christmas or The Holidays that we are in no shortage of things to read with our little ones this time of year!
Ten Night Before Christmas Books
This list is in no certain order and this post contains affiliate links.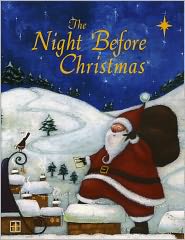 The Night Before Christmas Retold by Clement C. Moore and Illustrated by Caroline Pedler
This is one book that has the original story. I don't think I need to say much more than that!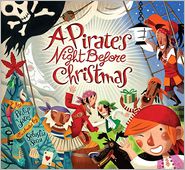 A Pirate's Night Before Christmas by Philip Yates and Illustrated by Sebastia Serra
Sir Peggedy arrives on the Black Sark this Christmas Eve. What's the best gift he could give a pirate? It's a clever book with a pirate twist on the traditional story. It also has a pirate glossary at the back of the book. (If your children are into pirates, I'm sure they will like this one!)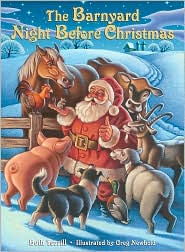 The Barnyard Night Before Christmas by Beth Terrill and Illustrated by Greg Newbold
The barnyard animals aren't getting along and nobody thinks Santa will be paying them a visit this Christmas. To their surprise, he shows up…alone! His reindeer aren't with him and he doesn't know if he'll be able to deliver the presents this year. Will the animals be able to work together to help Santa complete his Christmas deliveries?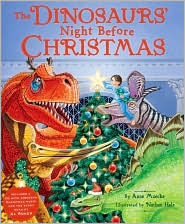 The Dinosaurs Night Before Christmas by Anne Muecke and Illustrated by Nathan Hale
After Young Boy turns in on Christmas Eve, he's awoken by the sounds of fossils coming to life across the street! Without a care in the world, he runs through the snow and enters the museum to take a closer look at the festivities. Will they have an appetite for young blood or be so excited about Christmas that they welcome him? What will happen come Christmas morning? (If you have a dinosaur lover in your house, they'll love this book!) It also comes with a Dinosaur Christmas Music and Read-Aloud CD with five tracks plus the read-aloud track.

Cajun Night Before Christmas by "Trosclair" and Illustrated by James Rice
Written in Cajun dialect, this story transfers the familiar story of St. Nick to Louisiana…on the bayou. Being a seasoned read-alouder, I found myself getting tongue-tied and paying close attention to the wording, but it's another creative twist on a classic. How will the family in this story take to the idea of Santa showing up with eight gators pulling his skiff?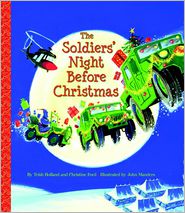 The Soldiers' Night Before Christmas by Trish Holland and Christine Ford and Illustrated by John Mander
So, this version of the story brought a tear to my eye. However, I will say the authors try to keep it lighthearted. Many people aren't together at Christmas and unfortunately, soldiers spend a lot of time away from home. Christmas can be one of those times. How do the soldiers feel in this book when Sergeant McClaus shows up bringing Christmas from home? What will he bring and will they feel connected to those they miss?
Barney's Night Before Christmas by Stephen White and Illustrated by Rick Grayson
Using their imaginations, everyone at Hannah's house stops decorating for Christmas to find the answer to Baby Bop's question, "Who fills Santa's stocking?" They find themselves wrapping gifts after taking a tour of the toy factory. In the end, Santa and Mrs. Claus are surprised to see that they have gifts in their stockings! I wonder who filled their stockings this Christmas Eve? (This is not an affiliate link.)
Piper's Night Before Christmas by Mark Lowry and Martha Bolton and Illustrated by Kristen Myers
Piper is that mouse that isn't stirring on Christmas Eve. Why? Because he's typically hyper and the excitement of Christmas got to him before that popular story began. While trying to get into some gifts earlier in the evening, Piper flings himself out of the window and lands in church. Before he knows it, he's part of the Christmas Play. He is learning about the real meaning of Christmas and is overcome with faith. He gives his gift to Baby Jesus and then heads home. What does he do there that keeps him from stirring the night before Christmas? (This is not an affiliate link.)
An Aussie Night Before Christmas by Yvonne Morrison and Illustrated by Kilmeny Niland
We take a trip Down Under when we open this book. What's the night before Christmas like for Santa in the summer? Afterall, it's not cold in Australia this time of year. Who's pulling his sled? Wait, why would he use a sled if there's no snow? What is he wearing? It's too hot for his red suit. Is anything about this story the same as the popular one? I think it's definitely worth the read to find out! (This is not an affiliate link.)
An Aussie Day Before Christmas Written and Illustrated by Kilmeny Niland
I just had to include this one too, since I like it just as much as the previous book! What is it that Santa does to gear up for the big night? Does he get fresh air on the beach? No time for a break? Does he spend time with Mrs. Claus? Choose an outfit? Check over his list and line up the presents? Well…read the book to find out! (This is not an affiliate link.)
What is your favorite Night Before Christmas story?