When Christmas Feels Like Home by Gretchen Griffith and Illustrated by Carolina Farias
November 20, 2013 in Reviews, Teaching by Anna
At the end of September I had the pleasure of meeting Gretchen Griffith, a children's book author from North Carolina. We were both attending the SCBWI Carolinas Conference. It was my first conference and Gretchen was on the panel of one of the first sessions I attended. She was sharing her experience with writing and the publication of When Christmas Feels Like Home.
This post contains affiliate links, I was given a free book to create this post, but as always all opinions are my own.
This is an exciting week for Gretchen because her book releases on NOOK and Kindle!
The author behind When Christmas Feels Like Home
Gretchen Griffith is a retired teacher, where she spent years in various grade levels, a self-contained classroom, and in remedial reading. Her favorite grade to teach was fourth grade and she was lucky to spend the last half of her career with fourth graders. In her spare time she enjoys spending time with her grandchildren and volunteers for projects at her church and with the AFS foreign exchange program.
Recently, I asked her a few more questions.
LLAM: What inspired you to write this story?
Gretchen Griffith: I wanted to write something that assures children that in time, the unknown can become comfortable, like home. I was an exchange student in Lima, Peru back when I was in high school and I understand what moving into a new culture is like. Now I work with students who are going abroad and during the predeparture orientation we talk a lot about the time table for adjusting to a new life. That's why I have the main character, Eduardo, looking for signs of when he will feel like he is home.
LLAM: How long did it take from idea to final product, would you estimate, for this to get published?
Gretchen Griffith: Six years and that doesn't even count the time it brewed in my brain even before I knew it would be a written story.
LLAM: Have you published any other books?
Gretchen Griffith: My other two books are nonfiction adult market books. Lessons Learned: The Story of Pilot Mountain School came out in 2012, published by Bright Mountain Books, a regional company out of Fairview, NC. I self published the other one in 2013, Called to the Mountain: The Story of Jean L. Frese, the story of my mother's cousin in the Salvation Army.
LLAM: Do you have any more books you are currently working on?
Gretchen Griffith: I have two major projects ahead of me. One adult level and one middle grade. I'm in the researching phase on both of them. Problem is, they don't overlap at all and I am doing double the digging. But it sure is fun.
LLAM: Have you been featured in various places for your writing or for this book specifically?
Gretchen Griffith: I have been fortunate to have a network of fellow writers who have featured me on their blogs.

Joan Y. Edwards

organized a blog tour that I participated in as well. (

Here

is Gretchen's post from the

Joan's blog tour

.) 
In the

November/December Issue

of Talking Story Carol Baldwin and Joyce Hostetter feature books about grandparents, including When Christmas Feels Like Home since there is a grandfather at the beginning. 
When Christmas Feels Like Home also has reviews on

Kirkus

and

Goodreads

and of course,

Amazon

and

Barnes and Noble

.
You can buy When Christmas Feels Like Home right here from Barnes and Noble for $16.99.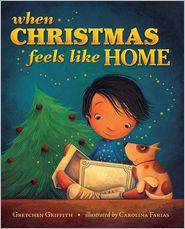 Eduardo doesn't like the idea of moving away from his village and he longs for the feeling only home can bring. His parents continue to assure him that the time will come to display his Nativity, but their endless riddles aren't helping. Will Eduardo ever feel at home with new friends that don't always understand him? Will he be able to display the Nativity by Christmas?
This book is an excellent addition to any English Language Learning environment and would relate well with any child having difficulty in a new situation at any time of the year.
Have you ever been in a situation where you just wanted to be home?